Hey, there foodies! Are you ready to embark on a culinary adventure that combines the vibrant flavors of the Philippines with a refreshing twist? Look no further, because we've got an exciting recipe for you today. Get your taste buds tingling as we introduce you to our easy Filipino one-pan dish - Caramelized Shrimp With 7 Up! This delightful concoction takes succulent shrimp and pairs it with the zesty citrus sweetness of everyone's favorite soda. Prepare yourself for a burst of flavors that will transport you straight to the sunny shores of the Philippines. So let's dive right in and learn how to whip up this irresistible dish in no time!
3 ingredients (shrimp, 7 Up, and olive oil) are all you need to make this Delicious Caramelized Shrimp with 7 Up, and is ready to eat in 15 minutes! This dish can be served as an appetizer or a light lunch or dinner served with Garlic Fried Rice and Chili Cucumber Salad.
Jump to:
Why You Would Love This Dish
The Perfect Blend of Sweet and Savory: Imagine succulent shrimp marinated in a unique mixture of seasonings, combined with the distinct sweetness of 7 Up soda. This unexpected pairing creates an explosion of flavors that will leave your taste buds dancing! The tangy citrus notes from the soda perfectly complement the savory elements, resulting in a harmonious balance unlike any other.
A Quick and Effortless Cooking Process: With our one-pan recipe, preparing this delectable shrimp dish becomes an absolute breeze! Gather all your ingredients, toss them into a single pan, and let them work their magic together. This means less time spent on cleaning up afterward - now who doesn't love that?
Authenticity Meets Creativity: Filipino cuisine is renowned for its vibrant flavors and diverse influences. By adding 7 Up to this classic shrimp dish, we're infusing it with an inventive twist while still maintaining its authentic essence – truly capturing what Filipino cuisine is all about innovation without compromising tradition.
Great for Entertaining or Simple Family Dinners: Whether you're hosting guests or simply enjoying a cozy family dinner, this easy-to-make Shrimp with 7 Up can be enjoyed any night of the week or weekend.
Ingredients Needed
This one-pan wonder is not only easy to make but also packs a punch of flavor that will have you coming back for seconds.
Here's what you'll need:
Shrimp: peeled and deveined (fresh or frozen)
7 Up: any regular (not diet) lemon-lime soda will work
Salt and black pepper to taste
Cooking oil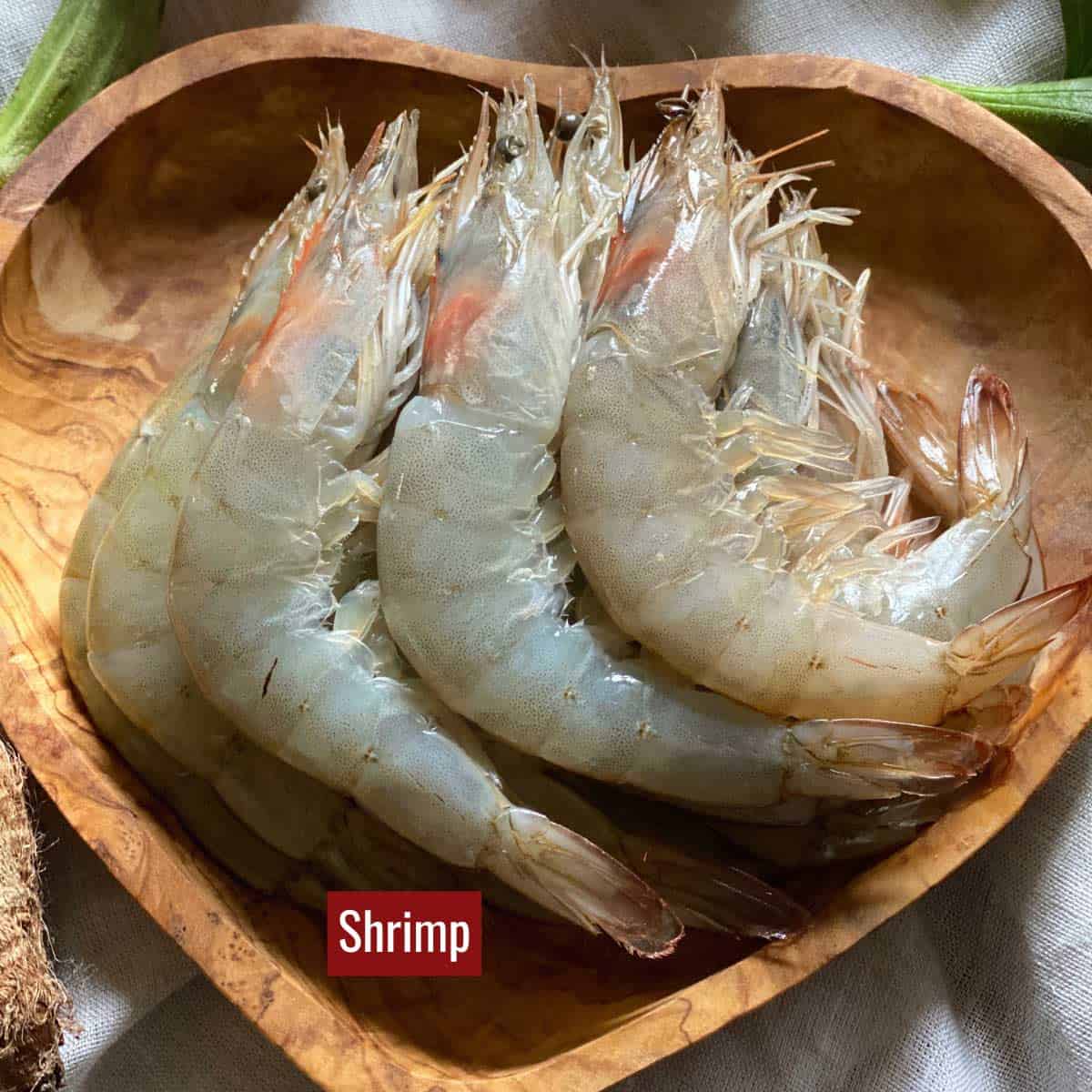 Note: Exact measurements for making caramelized shrimp with 7 Up can be found in the recipe card below.
Key Ingredients Notes
While I highly recommend you use shrimp with head and tails on for superb flavor, as an option you can use shrimp (either fresh or frozen) already peeled. You'll trade (just some of) the flavor for ease and convenience. So it's totally up to you.
How To Make
Now that we've got everything ready let's get cooking. This Caramelized Shrimp dish is very simple to make and can be done in three easy steps:
Step 1: Gently place the shrimp into the pan and pour in that glorious cup of fizzy goodness – the mighty 7 Up! Watch as it sizzles and adds a touch of sweetness while tenderizing those succulent shrimps. Let it simmer for another minute or two, allowing all those flavors to meld together beautifully.
STEP 2: Let it simmer for about 5 minutes until the shrimp turn bright orange. Add olive oil, and stir occasionally to prevent it from burning.
Step 3: Season with salt and black pepper according to your taste preferences. Be generous, but don't go overboard! Remember, balance is key.
Scroll down to the recipe card to see the instructions for making caramelized shrimp.
Substitutions
Instead of using 7 Up for this great recipe, here are some substitutions you can use to make this caramelized shrimp.
Pineapple Juice: If you're looking for a tropical and tangy flavor, pineapple juice can be an excellent substitute for 7 Up in your recipe. Its natural sweetness will complement the savory notes of the shrimp perfectly.
Ginger Ale: For those who want to add a subtle ginger kick to their dish, ginger ale is a fantastic option. It offers a slightly different flavor profile but still brings that effervescence and hint of sweetness required for caramelization.
Apple Cider: When it comes to creating depth and richness in your dish, apple cider can work wonders as a substitute for 7 Up. The natural sugars found in cider will help caramelize the shrimp beautifully while adding its distinct fruity essence.
Lemon-Lime Soda: If you're open to trying another brand or simply have lemon-lime soda instead of 7 Up, go ahead and give it a shot! The citrusy flavors from this soda will enhance the taste of your caramelized shrimp just like our original recipe.
Orange Juice: Looking for an even sweeter twist? Substitute 7 Up with orange juice! It adds brightness and zing to the dish while providing plenty of natural sugars that will caramelize the shrimp beautifully!
Variations
Here are a few variations for caramelized shrimp to get you started on our culinary adventure!
Spicy Kick Caramelized Shrimp: If you like things hot and spicy, this variation is for you! Follow the classic recipe but amp up the heat by adding red pepper flakes, hot sauce, or diced jalapeños and make a spicy sauce. The combination of sweet and spicy flavors will make every bite explode with deliciousness.
Citrus Burst Caramelized Shrimp: For those who crave a refreshing twist, try infusing your shrimp with citrusy goodness! Add some freshly squeezed orange or fresh lemon juice to brighten up your dish even more alongside that tangy 7 Up kick. Trust us; this zesty variation is perfect for summer gatherings or lightening up any meal. And add a bit of color by adding orange and lemon slices for garnishing.
Garlic Butter Caramelized Shrimp: If you are a fan of something decadent, then you would love our Garlic Butter Shrimp Recipe! It is loaded with savory, garlicky, sweet, salty, umami goodness! And butter? YES, please!!!
Teriyaki-inspired Caramelized Shrimp: Let's take a trip to Japan by adding an Asian touch to our dish with teriyaki flavors! Mix some ready-made teriyaki sauce or oyster sauce into this classic recipe. Serve it with a bowl of steaming white rice.
Hawaiian-inspired Caramelized Shrimp: Take your hula skirt and let's go to Hawaii! Start off with this classic Shrimp with 7 Up recipe and add some huli-huli homemade sauce. Top it with grilled pineapples and serve alongside Filipino Macaroni Salad.
What To Do With Leftovers
Here's a list of the best tips and tricks to store your leftover caramelized shrimp dish while maintaining its delicious flavor.
1. Choosing the Right Containers: To keep your leftover shrimp as fresh as possible, opt for an airtight container or resealable bags. This will prevent any unwanted odors from seeping into the dish and ensure that flavors remain intact.
2. Proper Refrigeration: Once your caramelized shrimp has cooled down, place it in the refrigerator within two hours of cooking. The lower temperature will slow down bacterial growth and maintain its taste and texture for longer periods.
3. Divide into Portions: If you have a large amount of leftovers, consider dividing them into smaller portions before storing them. This way, you can easily grab just what you need without reheating the entire batch every time.
4. Labeling and Dating: Avoid any confusion by labeling your containers with the date when storing leftovers. This practice helps you keep track of freshness and ensures that nothing goes to waste.
5. Freezing Option: If you don't plan on consuming your leftover shrimp within three days, freezing is an excellent option to extend its shelf life even further (up to three months). Portion out individual servings for easier meal planning.
Want more recipes? Go to recipe index to see other gourmet recipes sorted by category!
In conclusion, Caramelized Shrimp With 7 Up is a delightful and easy Filipino one-pan recipe that will surely tantalize your taste buds. This dish combines the succulent sweetness of shrimp with the refreshing tanginess of 7 Up, creating a unique flavor explosion that is sure to impress your family and friends. Whether you're looking for a quick weeknight meal or planning a special dinner, this recipe is a winner. So why not give it a try? It's time to bring some Filipino flair to your kitchen and enjoy this deliciously simple dish!
Frequently Asked Questions
Can I use frozen shrimp?
Yes, frozen shrimp would work fine to make this Shrimp with 7 Up recipe.
Can this dish be served cold?
This Caramelized Shrimp recipe takes on an exciting twist of flavors by serving cold like a Shrimp Cocktail.
What does lemon lime soda do to the shrimp?
The soda helps to tenderize the shrimp while adding a tangy lemon-lime sweetness to the shrimp. The sweetness in the lemon-lime soda adds a nice golden caramel color to the shrimp.
What's the best size shrimp to use?
21-25 count per pound shrimp is the ideal size to make caramelized shrimp with 7 up.
Other Recipes With Shrimp
If you make this recipe, post a photo using the hashtag #JOZmahal. Let's be taste buds and follow me on Facebook, Twitter, Instagram, and Pinterest.
📖 Recipe Card
Ingredients
1

lb

Shrimp

with heads and tails (cleaned & deveined)

8

oz

7 UP

1

T

Olive Oil

Salt and Pepper

to taste
Instructions
Place shrimp in a single layer with 7 Up, in a skillet, over medium-high heat

Let it simmer until the shrimp turn bright orange, about 5 minutes. Add olive oil and stir occasionally to prevent from burning.

Once the shrimp have caramelized and the liquid has evaporated, remove it from heat. Season with salt and pepper. Enjoy!
Notes
Use large-sized shrimp for a more enjoyable treat, like a 21-25 count.
Get the shrimp already cleaned and deveined for quick prep work.
Any lemon-lime soda will work for this recipe.
Fresh shrimp yield the best flavor, however, frozen shrimp (already peeled or shell-on) will work!
Any leftover shrimp should be promptly stored covered and refrigerated and must be consumed within 4 days.
While it's completely acceptable to freeze the cooked shrimp within a day or two if you're not able to eat them right away, I will not recommend freezing this dish as the flavors and texture are at their best when consumed right away. 
This recipe goes great with Garlic Fried Rice and Cucumber Chili Salad.
You may also want to try my recipe for Garlic Butter Shrimp with Sprite
Nutrition
Calories:
93
kcal
|
Carbohydrates:
2
g
|
Protein:
15
g
|
Fat:
3
g
|
Saturated Fat:
1
g
|
Polyunsaturated Fat:
1
g
|
Monounsaturated Fat:
2
g
|
Trans Fat:
1
g
|
Cholesterol:
122
mg
|
Sodium:
92
mg
|
Potassium:
200
mg
|
Sugar:
2
g
|
Calcium:
49
mg
|
Iron:
1
mg