3 ingredients (shrimp, 7 Up, and olive oil) are all you need to make this Delicious Caramelized Shrimp with 7 Up, and is ready to eat in 15 minutes! This dish can be served as an appetizer or a light lunch or dinner served with Garlic Fried Rice and Chili Cucumber Salad.
Why We Love This Dish
The simple combination of sweet and salty flavors of the caramelized shrimps takes me to a time when we would swim by a waterfall, yes, I said waterfall (see Pagsanjan Falls). Growing up in the Philippines as a young girl, I remember my Mom and Dad would take us on a day trip and Mom would pack up a lunch and after swimming, we would pick at these succulent shrimps and enjoy eating them with our bare hands. You should try that too!
And if it's "crispy on the outside but juicy and tender on the inside" is what you're going for, then this, my friend, will do it for you!
You can enjoy these caramelized shrimps as an appetizer, or as a main course lunch or dinner. And if you have day old rice, make Garlic Fried Rice, and slice up some tomatoes and red onions for your relish. Yummmm!
What Does Caramelize Mean
"Caramelize" means to change the flavor and color of the sugar in foods to a more nutty and golden brown color, respectively, by cooking the shrimps over low heat.
Shrimps typically have a very delicate flavor which is why you'd always see shrimps paired with sauces that have a more robust flavor like you would have Shrimp with Cocktail Sauce, or Shrimps with Teriyaki Sauce, or Shrimps with Garlic Butter Sauce, well you get the picture. And this could be a clue to upcoming blog posts.
Why Caramelized Shrimp with 7 UP
I wanted to make a quick appetizer using shrimps and make it simple by using only 5 ingredients that most people readily have available in their pantry.
The use of regular 7 UP contributes to the caramelization of the shrimp due to the sugar in the lemon-lime soda. Cooking 7 UP over low heat will help achieve that sweet lemony taste that will complement the shrimp and impart a nice golden color which will make for a very inviting and tasty shrimp dish.
Other than 7 UP you can use any lemon-lime soda like Sprite, Sierra Mist, Mountain Dew, or Slice, to caramelize the shrimp. Note that since you need regular sugar to caramelize the shrimps I would not recommend using a diet drink. You need the natural sugars to make this delicious Caramelized Shrimp dish. And no, mixing in sugar will not work, because you need the liquid in the lemon-lime soda.
And this Caramelized Shrimp recipe would work best if you cook the shrimps with the head and shells intact, cleaned, and deveined of course. Since you will be caramelizing the shrimps over low heat the shells help to protect the delicate flesh of the shrimps and keep it from getting overcooked. Instead, will delight you with a very succulent dish and you wouldn't be able to stop at just one. I promise!
Caramelized Shrimp with shells on gives the overall dish its golden color and nutty flavor of caramel. And that is the long and short of why I recreated this Caramelized Shrimp using 7 Up just like what my Momma used to make.
Ingredients Needed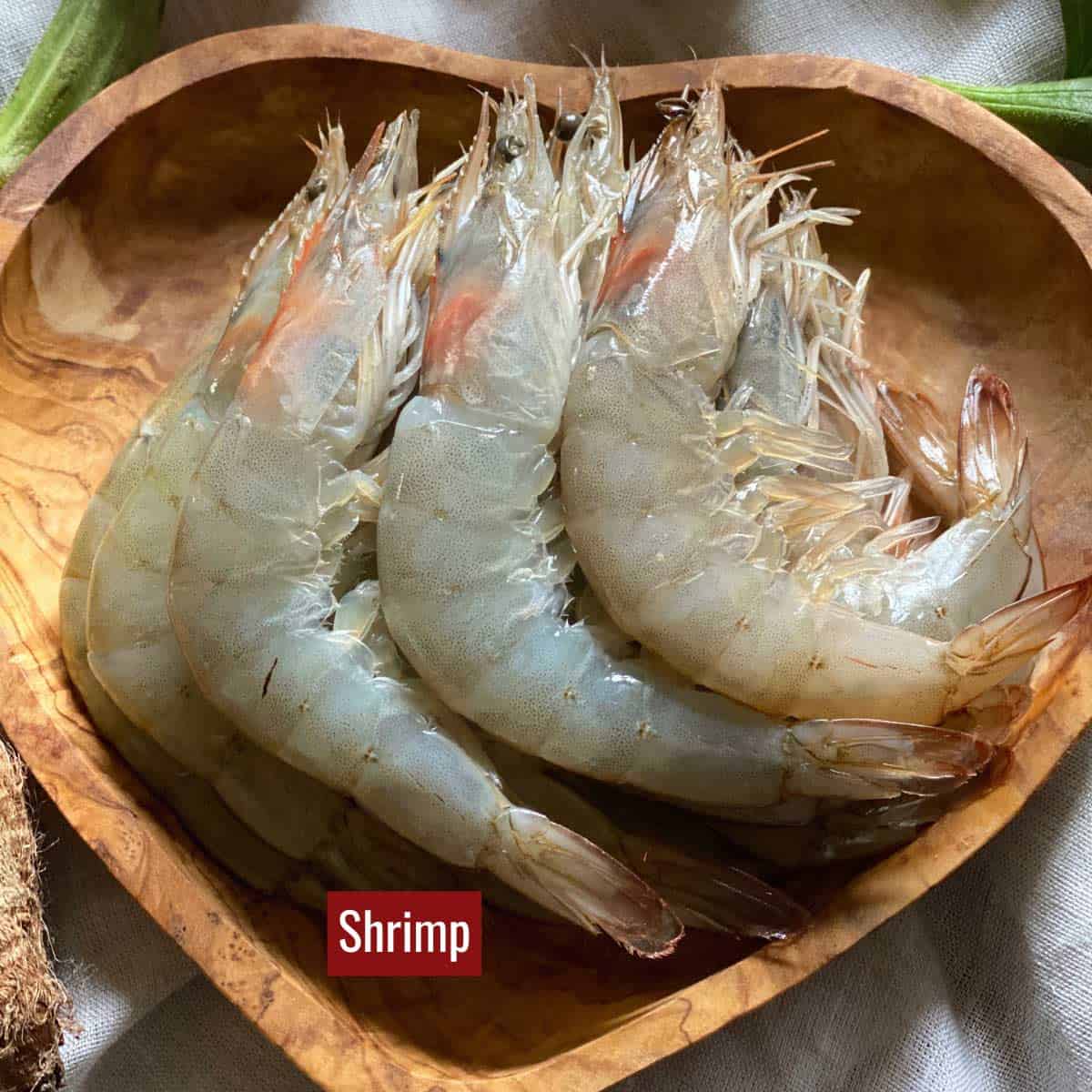 Note: Exact measurements can be found in the recipe card. So please continue to scroll down.
Olive Oil
Shrimp with Tails and Heads (cleaned and deveined)
7 Up
Salt + Pepper to taste
Key Ingredients Notes
While I highly recommend you use shrimps with head and tails on for superb flavor, as an option you can use shrimps (either fresh or frozen) already peeled. You'll trade (just some of) the flavor for ease and convenience. So it's totally up to you.
How To Make This Dish
This Caramelized Shrimp dish is very simple to make and can be done in three easy steps:
STEP 1: Place shrimps in a single layer on a pan, and add 7 Up.
STEP 2: Let it simmer for about 5 minutes until the shrimps turn bright orange. Add olive oil, and stir occasionally to prevent it from burning.
STEP 3: Once the shrimps have caramelized and the liquid has evaporated, remove from heat and serve! Season with salt and pepper, to taste. Enjoy!
Frequently Asked Questions
Can I use frozen shrimps?
Yes, frozen shrimps would work fine to make this Caramelized Shrimp recipe.
Can this dish be made in advance?
Absolutely! Just reheat the Caramelized Shrimp in the microwave before serving, being careful not to overdo it as this will make the shrimps tough and chewy.
Can I serve this cold?
Yes, it can be served cold as an appetizer! The Caramelized Shrimp will taste great served with cocktail sauce!
Can this be stored and for how long?
Promptly place the cooked Caramelized Shrimp in the refrigerator in a sealed container within 1 to 2 hours of serving. Any leftovers can be stored in the coldest part of the refrigerator for 3 to 4 days.
Can the Caramelized Shrimps be frozen?
While it is safe to do so, I cannot promise that the texture and flavor of the shrimps will be the same as when it was freshly made. Besides, whenever I make this dish, I never had any leftovers.
---
Other Seafood Recipes To Try
Ingredients
1

lb

Shrimp

with heads and tails (cleaned & deveined)

4

oz

7 UP

1

T

Olive Oil

Salt and Pepper

to taste
Instructions
Place shrimps in a single layer with 7 Up, in a skillet, over medium-high heat

Let it simmer until the shrimps turn bright orange, about 5 minutes. Add olive oil and stir occasionally to prevent from burning.

Once the shrimps have caramelized and the liquid has evaporated, remove it from heat. Season with salt and pepper. Enjoy!
Notes
You want to use large-sized shrimps for a more enjoyable treat, like 21-25 count.
Get the shrimps already cleaned and deveined for quick prep work.
Any lemon-lime soda will work for this recipe.
Fresh shrimps yield the best flavor, however, frozen shrimps (already peeled or shell-on) will work!
Any leftover shrimps should be promptly stored covered and refrigerated and must be consumed within 4 days.
While it's completely acceptable to freeze the cooked shrimps within a day or two if you're not able to eat them right away, I will not recommend freezing this dish as the flavors and texture are at its best when consumed right away. 
This recipe goes great with Garlic Fried Rice and Cucumber Chili Salad.
You may also want to try my recipe for Garlic Butter Shrimp with Sprite
Nutrition
Calories:
93
kcal
|
Carbohydrates:
2
g
|
Protein:
15
g
|
Fat:
3
g
|
Saturated Fat:
1
g
|
Polyunsaturated Fat:
1
g
|
Monounsaturated Fat:
2
g
|
Trans Fat:
1
g
|
Cholesterol:
122
mg
|
Sodium:
92
mg
|
Potassium:
200
mg
|
Sugar:
2
g
|
Calcium:
49
mg
|
Iron:
1
mg
Did you make this recipe?
Please give a star rating below and tag us on Instagram! We'd LOVE to see your photo @JOZmahal / #JOZmahal