For mornings when you want something a little more hearty and satisfying, this is something you can add to your breakfast repertoire. This flavorful comfort food only takes 15 minutes to make (from prep to table). Start making coffee!
Jump to:
Ingredients Needed
*See the recipe card below this post for ingredient quantities and full written instructions on how to make Garlic Fried Rice with Bacon and Eggs.
4 Steps How To Make Fried Rice with Bacon and Egg
Fry sliced bacon.
Add garlic and day-old cooked rice.
Add eggs to fried rice and bacon.
Toss all ingredients together.
*See the recipe card below this post for ingredient quantities and full written instructions on how to make Garlic Fried Rice with Bacon and Eggs.
What Other Ingredients Can You Add to Bacon and Egg Fried Rice
If you'd rather, instead of stirring in egg in the fried rice as you cook it, you may want to top the fried rice with egg sunny-side-up! Picture this. Poke the yolk of the egg and watch the yellow goodness run down the sides of the fried rice as it envelopes it with tasty rich flavor. 😋
Instead of bacon, want to try it with spam? If you must, then go ahead! 😳
Do you love veggies? Peas, carrots, corn, scallions, green beans, or any of your favorites will work here. Fresh or frozen. If you want to save some time and skip the slicing and dicing, use frozen stir-fry vegetables!
Frequently Asked Questions
Can you reheat Fried Rice?
Yes. You can reheat this dish either on the stovetop or microwave.
What cooking equipment do I need to make fried rice?
You can use either a skillet or a wok.
What kind of oil can I use to make fried rice?
You can use any type of oil to make fried rice. We used the bacon grease to make this recipe, to impart the smokiness flavor of bacon to the dish.
How can I store any of the leftovers?
Promptly store any leftovers in a sealed container in the refrigerator for up to 3 days. Alternatively, you can freeze any leftover fried rice in the freezer for up to 2 months.
Instead of frying, can I bake the bacon?
Yes. You can cook the bacon in the oven. Put the slices of bacon in a single layer on a cookie sheet, without preheating the oven. Once the oven temperature reaches 400 degrees Fahrenheit, set the timer for 1.5 minutes per slice of bacon. See "How to cook bacon in the oven" below.
How to Cook Bacon In The Oven
A healthier and less messy way to cook bacon is to start it in a cold oven. Meaning, that without pre-heating the oven, put the slices of bacon in a single layer on a cookie sheet, then place them on the lower rack in the oven. Now turn the temperature to 400 degrees Fahrenheit.
Don't set the timer until the oven "dings" and reaches the desired temperature. Depending on the number of slices, set the timer at one and a half minutes per slice. So with this recipe, since we're cooking six slices of bacon, set the timer for nine minutes.
NOTE: The oven temperature and thickness of bacon vary, so this will affect how long the bacon cooks. But overall, I've had many successes with the above procedure.
Dishes That Will Pair Well With Fried Rice
Have you tried this recipe? Please leave a comment and rating below. Let's be taste buds and connect with me on Instagram, Facebook, Twitter, and Pinterest.
📖 Recipe Card
Ingredients
6

Slices

Bacon

sliced ¼" thick

1

Clove

Garlic

finely chopped

2

Cups

Cooked Long Grain Rice

preferably a day or two days old

2

Eggs

Salt & Pepper to Taste
Instructions
In a wok over medium-high heat, add bacon (sliced ¼ inch thick). 

Add chopped garlic and sauté for about a minute. Try to get that garlic that nice golden color and with a slight crispness to it. Be careful not to burn it. Burnt garlic tastes bitter and you do not want that!

Add the rice. Toss everything together for about 2 minutes.

Add the eggs, stir, and toss all the ingredients together. Season with salt and pepper to taste.
Notes
Baking the bacon in the oven, lends a healthier benefit in that all of the grease drips out of the bacon and onto the pan.

Cooking time will vary depending on thickness of bacon. 

Long grain rice is a better choice for this recipe since long grain rice has less starch and when cooked it is less sticky and the grain separates - allowing for the garlic flavor to really blend in nicely with the rice.
For reason mentioned above, the older the rice (and has been in the refrigerator) allows for it to be drier and again will impart more of a garlicky flavor.
Nutrition
Calories:
467
kcal
|
Carbohydrates:
31
g
|
Protein:
14
g
|
Fat:
31
g
|
Saturated Fat:
9
g
|
Polyunsaturated Fat:
5
g
|
Monounsaturated Fat:
16
g
|
Trans Fat:
1
g
|
Cholesterol:
193
mg
|
Sodium:
355
mg
|
Potassium:
189
mg
|
Fiber:
1
g
|
Sugar:
1
g
|
Vitamin A:
254
IU
|
Vitamin C:
1
mg
|
Calcium:
39
mg
|
Iron:
1
mg
Did you make this recipe?
Please give a star rating below and tag us on Instagram! We'd LOVE to see your photo @JOZmahal / #JOZmahal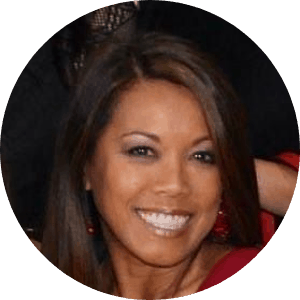 Hello and welcome, friend! I'm Jocelyn, the recipe developer, food photographer + stylist here at JOZmahal. As a Food & Nutrition major, I keep healthy and nutritious ingredients at the core of my recipe creations. I love to cook delicious and healthy meals for my family and friends. And I am so grateful that you are here as I hope to inspire and empower you to make all these delicious and healthy foods at home for your family and friends as well. Every recipe you will find here is quick and simple to make using fresh and natural ingredients that you can easily find at your local grocery store if not online. Read more about me here...
PS: If you try any of my recipes please use the tag #JOZmahalrecipes and you may be featured in my upcoming posts! ~ cook with love, my friend!