A healthy one-pot meal, Beef Caldereta is a popular Filipino Beef Stew recipe that is hearty, decadent and so full of flavor you will want to snuggle up with a bowl full. Slowly simmered in tomato sauce with fresh vegetables, spices, and cheese. Yep! You heard that right this Beef Caldereta recipe uses cheese. 🧀
This recipe was inspired by my Beef Mechado I shared previously. I wanted to write about the similarities and differences between these dishes as they're often mistaken for one and the other. So be sure to check that Mechado recipe.
Jump to:
What is Beef Caldereta
Caldereta also spelled as "Kaldereta" in Tagalog is a dish with a Spanish origin, Caldereta from the word "caldera" meaning cauldron. Because Caldereta is typically cooked (using goat meat) in a big pot that is stirred and simmered for hours until the meat is tender.
And like most Filipino stews that are inspired by the Spaniards when they colonized the Philippines for over 300 years, starts out with tomato sauce (fresh or canned) as the base, vegetables (potatoes, carrots, bell peppers) and spices (oregano, salt, black pepper) are added to finish the dish.
Is Beef Caldereta Healthy?
Yes, Beef Caldereta is rich in protein, vitamins, and minerals. And at 487 calories a serving you can't go wrong with having this dish in your regular meal-planning rotational.
Ingredients Needed
The blend of ingredients for Beef Caldereta give the dish an all around flavor from sweet and salty to smoky and savory.
Beef Chuck
Coconut Aminos or Soy Sauce
Salt
Garlic
Ground Oregano
Tomato Sauce
Water
Potatoes
Stuffed Green Olives
Cooking Sherry
Olive Oil
Onion
Pepperoni - gives the dish a nice kick and smoky flavor.
Ground Black Pepper
Red Bell Pepper and Green Bell Pepper - give the dish a hint of sweetness.
Sharp Cheddar Cheese - gives the dish a nice salty and savory finish.
See recipe card for quantities.
What Type of Meat is Best for Caldereta
Traditionally, Caldereta is made using goat meat. However, through the years, the Caldereta dish has evolved and the use of other meat that are more accessible are more often used like beef, chicken, or pork. I bet I can even use this soup base with shrimp or tofu. Hmmmmm......
How to Cook Delicious Beef Caldereta with Cheese
Season and marinate the meat in coconut aminos (or soy sauce), cooking sherry, and salt.
Sauté garlic and onion in olive oil over medium-high heat in a skillet.
Add marinated meat, tomato paste, and 1 ½ cup of water then simmer covered for 1 ½ to 2 hours or until meat is tender.
Add pepperoni, black pepper, and potatoes.
Add stuffed green olives, green and red bell peppers.
Add cheese and cook until the cheese is melted.
Hint: While meat is simmering, be sure to stir often to prevent from possible scorching.
Stovetop, Instant Pot, or Slow Cooker - which is better to use when making Beef Caldereta
Cooking stovetop produces a very rich and velvety sauce.
The benefits of using an Instant Pot or Pressure Cooker is you will cut your cooking time by more than half.
There's the convenience of using a traditional Slow Cooker. You can set it at low for 8 hours.
Substitutions
Coconut Aminos, Tamari, or Soy sauce - If you want a gluten-free option then use coconut aminos or Tamari sauce. However, if you do not have any gluten sensitivity, you can use regular soy sauce instead.
Liver Spread - You'll find some recipes that calls for canned liver spread to thicken the sauce of the Caldereta. For all the years (OK decades) that I have made Beef Caldereta I have NEVER used this ingredient. Why? It's processed meat! And like many processed means they are high in sodium. So, no, I don't add it for that reason alone. And quite honestly, you will not miss it.
Variations
Here are some ideas to add some variety for Beef Caldereta:
Spicy - a splash of hot sauce or a side of Giardiniera will kick it up a notch.
Leftovers - I used them as fillings for my Beef Empanadas (recipe to follow).
How to Store Leftovers
Promptly store any leftovers in a container with a tight fitting lid, in the refrigerator for up to 3 days.
You can freeze any leftover Beef Caldereta for up to 2 months.
Top tip
Don't skimp on the garlic! The garlic gives the Beef Caldereta a very robust and earthy flavor. So I like to use a lot of it in this recipe.
Cook low and slow - that's how all the flavors will be extracted from the beef and other ingredients from the dish. I love making Caldereta on days that I do other chores around the house, like laundry or cleaning out my closet.
Check and stir the Caldereta dish occasionally so it doesn't scorch. When I was just starting to learn how to cook, Caldereta was one of the dishes I first learned how to make and I burnt it! Ugh. The house stunk, the pot got burnt, and needless to say, we had cereals for dinner that night. So don't do what I did. Set a reminder for every 5 or 10 minutes, to check the dish and stir. Add some water or broth as needed.
And speaking of adding water, only add a ½ cup at a time. A perfect Beef Caldereta has thick sauce.
Don't use Beef Stew meat! While it won't affect the flavor too much, I made a mistake once of using already cut "beef stew" and the overall texture was subpar. The packaged beef stew is typically made up of various cuts of beef and therefore, they cooked differently.
The trick to cutting the meat easier and more evenly - Cut the meat while it's still partly frozen.
FAQ for Beef Caldereta
How can I thicken the sauce of Caldereta?
The sauce thickens naturally with the slow cooking method over medium to low heat. If desired, use thickening agents like corn flour (gluten-free) or regular flour.
What type of meat to use to make Caldereta?
Beef brisket, short ribs, chuck, rump roast or beef shanks are great meat options to make Caldereta.
Can it be made ahead of time?
Beef Caldereta can be made ahead of time. As a matter of fact, it's preferred since the flavors will get a chance to blend together making this dish more flavorful.
Can Beef Caldereta be frozen?
Yes! Any leftovers can be stored frozen in a sealed container or sealed plastic bag for up to 2 months in the freezer.
What type of cheese can I use for Caldereta?
Sharp Cheddar cheese is best to use when making Caldereta as it has a nice velvety sharp flavor profile which complements the flavor of the tomato sauce and stuffed green olives. The cheddar cheese also gives the Beef Caldereta a rich and robust flavor.
Other Recipes You May Like
Did you make this recipe? Be sure to leave a comment and rating below. Let's be taste buds and connect with me on Instagram, Facebook, Pinterest, or Twitter.
📖 Recipe Card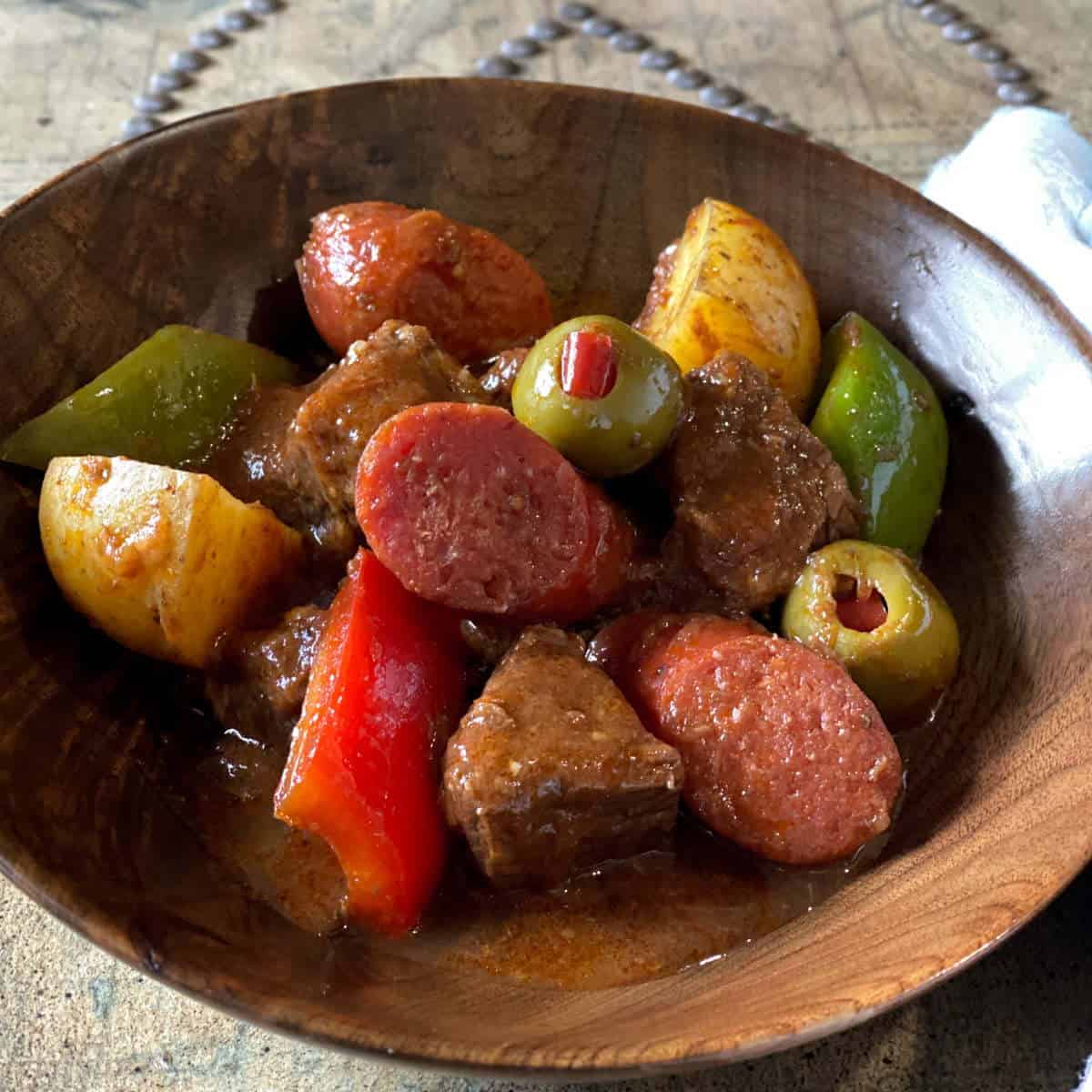 Ingredients
2

pound

Beef Chuck

cut in 1" chunks

4

tablespoon

of Soy sauce or Coconut Aminos

½

teaspoon

Salt

4

cloves

Garlic

finely chopped

½

teaspoon

Oregano

ground

8

ounce

Tomato Sauce

1 ½

cup

Water

see notes

2

medium

Potatoes

(peeled or skin intact, cut in quarters)

½

cup

Stuffed Olives

3

tablespoon

Cooking Sherry

2

tablespoon

Olive Oil

1

medium

Onion

(cut in quarters)

½

pound

Pepperoni

(sliced on a bias at ¼")

½

teaspoon

Black Pepper

(ground)

½

medium

Red Bell Pepper

(seeds removed and cut in 1" chunks)

½

medium

Green Bell Peppers

(seeds removed and cut in 1" chunks)

2

ounce

Sharp Cheddar Chees

(see notes)
Instructions
Season meat with coconut aminos, sherry, oregano and salt. Set aside.

Skillet over medium-high heat, and add olive oil. When it shimmers saute garlic and onions until translucent, about 2 minutes.

Add marinated meat, tomato paste, and 1 ½ cup of water, stir, then simmer covered for 1 ½ to 2 hours or until meat is tender. (see notes)

With 10 minutes left for cooking time add pepperoni, black pepper, and potatoes and cook potatoes until fork tender (about 30 minutes)

Add olives and green and red pepper and cook an additional 2 minutes.

Then add cheese, cover, and cook for another minute or two, until the cheese is melted.
Notes
Cut the meat while it's still partly frozen. This helps to cut meat thinly and more evenly.
Cook low and slow - the flavors will be extracted from all the ingredients rewarding you a Beef Caldereta that is rich and full of flavor.
Check and stir the Caldereta dish occasionally so it doesn't scorch. 
Add some water or broth (½ cup at a time) as needed.
Options for other cuts of meat to use are beef brisket, short ribs, chuck, rump roast or beef shanks.
Enjoy this with a side of steamed rice.
Nutrition
Serving:
8
g
|
Calories:
487
kcal
|
Carbohydrates:
16
g
|
Protein:
31
g
|
Fat:
34
g
|
Saturated Fat:
13
g
|
Polyunsaturated Fat:
3
g
|
Monounsaturated Fat:
17
g
|
Trans Fat:
1
g
|
Cholesterol:
113
mg
|
Sodium:
1174
mg
|
Potassium:
832
mg
|
Fiber:
3
g
|
Sugar:
3
g
|
Vitamin A:
506
IU
|
Vitamin C:
29
mg
|
Calcium:
101
mg
|
Iron:
4
mg
Did you make this recipe?
Please give a star rating below and tag us on Instagram! We'd LOVE to see your photo @JOZmahal / #JOZmahal
Food safety
A few health and safety tips.
Cook the beef to a minimum internal temperature of 145 °F (63 °C)
Do not use the same utensils on cooked food, that previously touched raw meat
Wash hands after touching raw meat
Don't leave food sitting out at room temperature for extended periods
Never leave cooking food unattended
Use oils with high smoking point to avoid harmful compounds
Always have good ventilation when using a gas stove
See more guidelines at USDA.gov.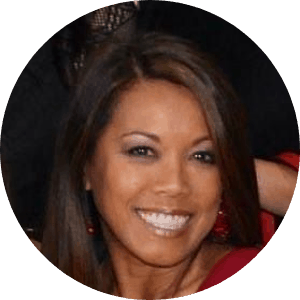 Hello and welcome, friend! I'm Jocelyn, the recipe developer, food photographer + stylist here at JOZmahal. As a Food & Nutrition major, I keep healthy and nutritious ingredients at the core of my recipe creations. I love to cook delicious and healthy meals for my family and friends. And I am so grateful that you are here as I hope to inspire and empower you to make all these delicious and healthy foods at home for your family and friends as well. Every recipe you will find here is quick and simple to make using fresh and natural ingredients that you can easily find at your local grocery store if not online. Read more about me here...
PS: If you try any of my recipes please use the tag #JOZmahalrecipes and you may be featured in my upcoming posts! ~ cook with love, my friend!