A healthy one-pot meal, Beef Caldereta is a popular Filipino Beef Stew recipe that is hearty, decadent and so full of flavor you will want to snuggle up with a bowl full. Slowly simmered in tomato sauce with fresh vegetables, spices, and cheese. Yep! You heard that right this Beef Caldereta recipe uses cheese. 🧀
This recipe was inspired by the Beef Mechado I shared previously. I wanted to write about the similarities and differences between these dishes as they're often mistaken for one and the other.
Jump to:
History and Origin of Beef Caldereta
Caldereta also spelled "Kaldereta" in Tagalog is a dish of Spanish origin, Caldereta is from the word "caldera" meaning cauldron. Caldereta is typically cooked (using goat meat) in a big pot that is stirred and simmered for hours until the meat is tender.
And like most Filipino stews that are inspired by the Spaniards when they colonized the Philippines for over 300 years, starts out with tomato sauce (fresh or canned) as the base, vegetables (potatoes, carrots, bell peppers), and spices (oregano, salt, black pepper) are added to finish the dish.
The dish has evolved over time by incorporating other types of meats, vegetables, sauces, and spices.
Ingredients for Beef Caldereta with Cheese (Kalderetang Baka Recipe)
Beef: The star of this dish! Choose tender cuts like chuck roast or beef cubes for maximum flavor.
Cheese: I used a sharp cheddar blend, which added creaminess and richness to the overall taste.
Broth: Beef broth, or two beef bouillon cubes mixed with water
Sauces: Provide the base for the rich and savory sauce in the Caldereta.
Soy Sauce (for that umami flavor), Cooking Sherry (acid to balance out the richness), and Tomato Sauce (you can use canned tomato sauce or make your own from fresh tomatoes if you prefer a more homemade touch),
Vegetables:
Potatoes and Carrots: These vegetables are commonly used in traditional Caldereta recipes to add texture and balance out the flavors. They also soak up all that tasty sauce!
Bell Peppers: Green and red bell pepper give this dish its vibrant color while adding sweetness and crunchiness.
Green Olives Stuffed with Red Pimentos
Aromatics: Garlic and Onions
Spices: Salt, Black Pepper, Oregano, Bay Leaf
Cooking Oil: Olive oil
Pepperoni, Liver Spread, or Liver Pate: (Optional) This may sound unusual, but liver spread/pate adds a unique depth of flavor to the stew. However, if you're not a fan or simply don't have any on hand, feel free to skip it. I used Pepperoni instead.
Please refer to the recipe card for exact quantities.
Variations & Substitutions
Now let's talk about some substitutions and variations you can try:
Meat Substitutions: If beef isn't your thing, you can substitute it with chicken or pork.
For a vegetarian twist: Swap out the meat altogether with tofu or seitan (wheat gluten).
Vegetable Additions: Feel free to experiment by adding other veggies like green peas, olives, or even mushrooms. If you want extra heat, throw in some chili peppers such as jalapeños or bird's eye chilies.
Sauce Enhancements: Want to elevate the flavors? Add a splash of Worcestershire sauce for an extra umami kick. For a smoky twist, you can also incorporate a few dashes of liquid smoke into the dish.
Spice It Up: If you love bold flavors, don't be afraid to turn up the heat on your Beef Caldereta! Add spices like paprika, cayenne pepper, some chopped chili peppers, or red pepper flakes to give the dish an extra kick. Adjust the amount according to your own tolerance level and enjoy that fiery flavor.
Step-by-Step Cooking Instructions
STEP 1: Season and marinate the meat in soy sauce, cooking sherry, and salt.
STEP 2: Sauté garlic and onion in olive oil over medium-high heat in a skillet.
STEP 3: Add marinated meat, tomato paste, and 1 ½ cups of water then simmer covered for 1 ½ to 2 hours or until meat is tender.
STEP 4: Add pepperoni, black pepper, and potatoes.
STEP 5: Add stuffed green olives and red and green bell peppers.
STEP 6: Add cheese and cook until the cheese is melted.
Please refer to the recipe card for more thorough instructions on how to make Beef Caldereta.
Cooking Methods:
1. Stovetop Method: The stovetop method is perfect for those who enjoy the traditional way of cooking this mouthwatering dish. Begin by heating oil in a large pan over medium heat. Sauté garlic and onions until fragrant, then add your choice of beef cuts (such as chuck or stew meat) and sear them until browned on all sides. Next comes the exciting part—adding the flavorful ingredients! Pour in tomato sauce, liver spread (for that extra richness), bay leaves, soy sauce, sugar, salt, pepper, and water to tenderize the meat. Bring it to a boil before reducing the heat to low-medium. Allow the mixture to simmer for about 2-3 hours or until the beef becomes fork-tender. Once done, sprinkle grated cheese generously over your hearty Caldereta while it's still hot. Stir gently until melted into a creamy goodness that will elevate every bite.
2. Instant Pot Method: For those looking for convenience without compromising taste, an Instant Pot can be your trusty companion in preparing this delectable dish! Start by setting your Instant Pot to sauté mode and follow similar steps as mentioned above for stovetop preparation—sautéing garlic, and onions along with browning the beef cubes. Once everything is nicely seared, add tomato sauce, liver spread (you guessed it!), bay leaves, soy sauce, sugar, salt, black pepper, and water just like before. Secure the lid, cancel the sauté mode, and set it to high pressure for around 30 minutes. After a natural release of pressure or using quick-release if you're in a hurry, open your Instant Pot to reveal a tender beef caldereta awaiting its final touch—the cheese! Sprinkle grated cheese over the piping hot dish, close the lid for a couple of minutes, and watch it melt into cheesy perfection.
3. Slow Cooking Method: There's the convenience of using a traditional Slow Cooker.
Step 1: Sear the beef - Heat the oil in a pan over medium-high heat. Add the beef chunks and cook until browned on all sides. This step helps seal in the juices and adds extra flavor. Beef brisket cooks perfectly well in a slow cooker.
Step 2: Slow cooker assembly - Transfer the seared beef to your trusty slow cooker. Add minced garlic, chopped onions, red bell peppers, and carrots.
Step 3: Flavor infusion - In a separate bowl, combine tomato sauce, liver spread or pâté, grated cheddar cheese, soy sauce, vinegar, salt, and pepper. Mix everything together until well combined. Pour this mixture over the ingredients in your slow cooker. Then set it at low for 8 hours.
Why Use Cheese in Enhancing Flavor
You might be wondering why anyone would want to add cheese to an already flavorful dish like Beef Caldereta.
Well, let me tell you, the addition of cheese brings a whole new level of richness and creaminess that will have your taste buds dancing with joy.
When you melt some cheese into the simmering pot of tender beef chunks, tomatoes, bell peppers, and spices, it creates a luscious sauce that coats every bite in cheesy goodness.
The creamy texture of the melted cheese blends perfectly with the bold flavors of the dish, creating an unforgettable combination.
Not only does the cheese enhance the taste and texture of your Beef Caldereta but it also adds a beautiful golden hue to the stew. Just imagine serving this vibrant dish at your next family gathering or dinner party - it's sure to impress everyone at the table.
To incorporate cheese into your Beef Caldereta recipe, simply grate or cube the desired amount and add it towards the end of cooking time. Stir gently until fully melted and incorporated into the sauce. Be careful not to overcook as excessive heat can cause separation or stringy texture.
The result? A mouthwatering bowlful of goodness that combines all those comforting flavors we love in Beef Caldereta with an irresistible cheesiness that makes it hard to resist going back for seconds.
So, the next time you're craving a Filipino comfort food classic with a twist, don't hesitate to add cheese to your Beef Caldereta. Your taste buds will thank you, and your friends and family will be asking for the recipe!
Serving Suggestions
Here are some fantastic serving suggestions and pairings that will take your Beef Caldereta experience to new heights.
Serve it with Rice: There's no denying that Beef Caldereta and steamed white rice are a match made in culinary heaven. The rich tomato-based sauce infused with spices and tender chunks of beef pairs perfectly with fluffy rice. It complements the flavors while allowing you to savor every bite of this delectable dish.
Garlic Bread or Baguette Slices: If you're looking for an exciting twist on traditional pairings, try serving your Beef Caldereta with Cheese alongside some crispy garlic bread or thinly sliced baguette pieces toasted to perfection. Not only does it add a delightful crunch, but the garlicky goodness also complements the savory flavors of the dish.
Mashed Potatoes or Pasta: For those who crave comfort food, consider serving your Beef Caldereta with Cheese atop creamy mashed potatoes or alongside al dente pasta noodles like penne or fusilli. The velvety texture of mashed potatoes adds another layer of decadence, while pasta provides a hearty base for soaking up all those delicious saucy flavors.
Steamed Vegetables: To balance out the richness of the dish, steamed vegetables make for great sidekicks when serving Beef Caldereta with cheese. Broccoli florets, carrots, green beans – choose your favorites and steam them until they're tender yet still vibrant in color. They'll provide a refreshing contrast while adding essential nutrients to your meal.
Storage Tips
1. To extend the shelf life of your Beef Caldereta with cheese, store it in an airtight container or wrap it tightly in aluminum foil before placing it in the refrigerator. This will prevent any unwanted odors from seeping in and keep your dish tasting as scrumptious as ever.
2. If you have a large batch of Beef Caldereta with cheese, consider dividing it into smaller portions before storing it. Smaller servings are easier to reheat without compromising the flavors and textures. Plus, this way, you won't have to defrost more than what you need at once.
3. Want to enjoy that cheesy goodness even after a while? Freezing is your answer! Make sure your Beef Caldereta has cooled down completely before transferring it into freezer-safe containers or zip-lock bags. Label them with the date for easy identification later on.
4. When you're ready to relish your frozen treasure, thaw it overnight in the refrigerator rather than using quick thaw methods like microwaving or hot water baths. Slow thawing ensures that all those amazing flavors are retained perfectly.
5. Remember to always inspect any leftovers before consuming them – safety first! Discard any signs of spoilage such as mold growth or off-smells immediately.
6. If possible, remove any excess melted cheese from the dish before storing leftovers separately (cheese tends to get rubbery when reheated). You can then add fresh grated cheese when reheating individual portions for that ooey-gooey goodness we all love.
7. While Beef Caldereta with cheese can be stored for up to 3-4 days in the refrigerator or around 2-3 months in the freezer, it's always recommended to enjoy it sooner rather than later for optimal taste and quality.
Top tip
Don't skimp on the garlic! The garlic gives the Beef Caldereta with cheese a very robust and earthy flavor. So I like to use a lot of it in this recipe.
Cook low and slow - that's how all the flavors will be extracted from the beef and other ingredients from the dish.
Check and stir the Beef Caldereta dish occasionally so it doesn't scorch. When I was just starting to learn how to cook, Caldereta was one of the dishes I first learned how to make and I burnt it! Ugh. The house stunk, the pot got burnt, and needless to say, we had cereals for dinner that night. So don't do what I did. Set a reminder for every 5 or 10 minutes, to check the dish and stir. Add some water or broth as needed.
And speaking of adding water, only add a ½ cup at a time. A perfect Beef Caldereta has a thick sauce.
Don't use Beef Stew meat! While it won't affect the flavor too much, I made a mistake once of using already cut "beef stew" and the overall texture was subpar. The packaged beef stew is typically made up of various cuts of beef and therefore, they are cooked differently.
The trick to cutting the meat easier and more evenly is to cut the meat while it's still partly frozen.
FAQ for Beef Caldereta
What is Beef Caldereta?
Beef Caldereta is a popular Filipino food made with tender chunks of beef cooked in a rich tomato-based sauce. It's typically flavored with various spices and seasonings that give it a unique and savory taste. 
Why is cheese included in Beef Caldereta?
Cheese adds a creamy and slightly tangy element to the dish, elevating its flavors and making it even more delightful. The melting cheese blends beautifully with the robust sauce, creating a luscious texture that will make your taste buds dance. 
What type of cheese should I use for Beef Caldereta? 
Traditionally, cheddar or processed quick-melt cheeses are used due to their excellent melting properties. However, feel free to experiment with other varieties like mozzarella or even blue cheese if you're feeling adventurous! Each one will bring its unique character to the dish. 
Can I omit the cheese if I'm not a fan? 
Of course! While adding cheese enhances the flavors of Beef Caldereta, it's not mandatory. If you're not fond of cheesy goodness or have dietary restrictions, feel free to skip this ingredient. The dish will still be absolutely scrumptious without it! 
How do I properly melt the cheese in my Beef Caldereta? 
To achieve that perfect melted cheesiness, add small slices or cubes of cheese towards the end of cooking when your meat is already tender and the sauce has thickened slightly. Simmer on low heat until the cheese fully melts and blends into the sauce. 
Can I use pre-shredded cheese instead of slicing it myself? 
Absolutely! If you're short on time or prefer convenience, pre-shredded cheese works just fine. However, keep in mind that freshly sliced cheese tends to melt more smoothly and evenly.
Other Beef Recipes You May Like
Did you make this recipe? Be sure to leave a comment and rating below. Let's be taste buds and connect with me on Instagram, Facebook, Pinterest, or Twitter.
📖 Recipe Card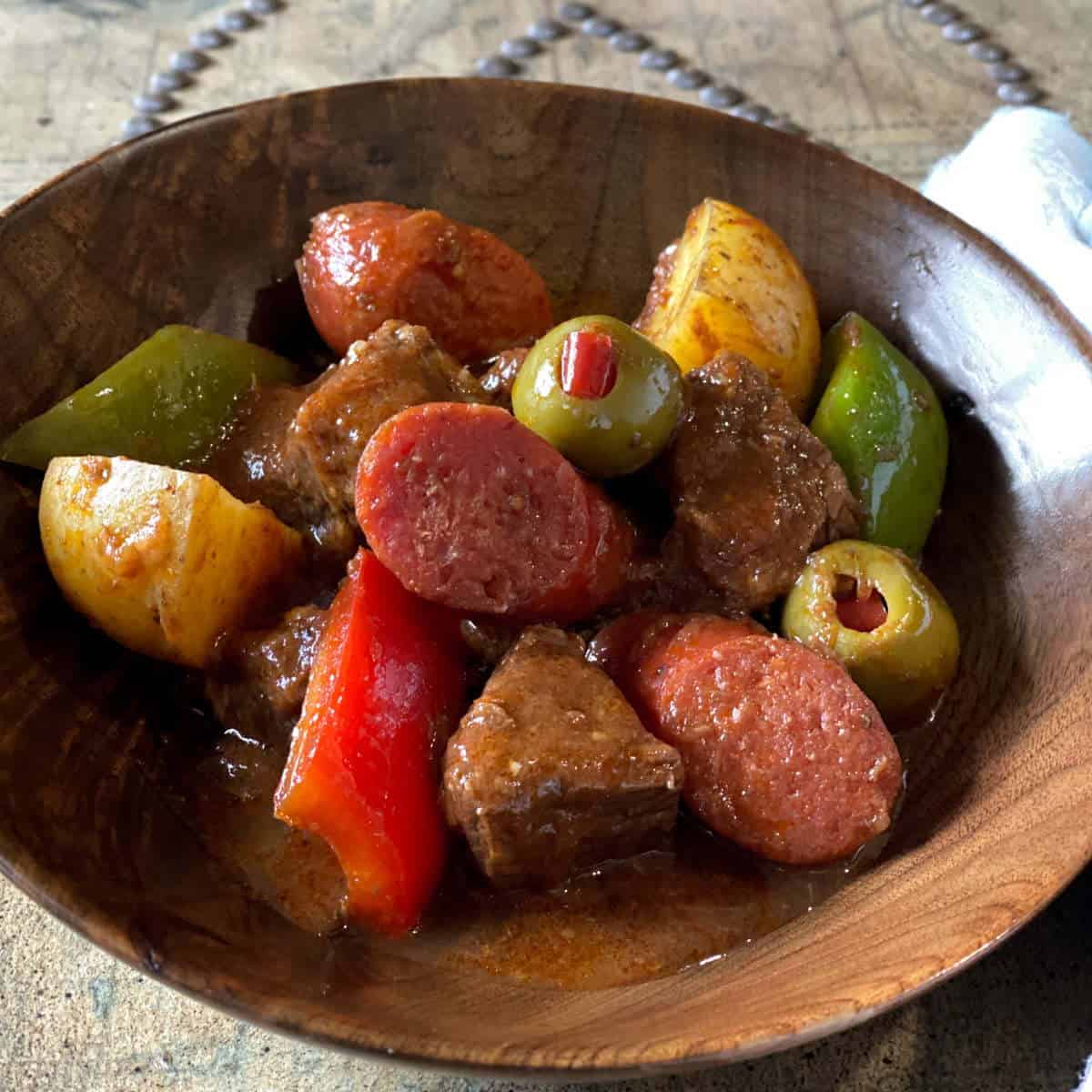 Equipment
Ingredients
2

pound

Beef Chuck

cut in 1" chunks

4

tablespoon

of Soy sauce or Coconut Aminos

½

teaspoon

Salt

4

cloves

Garlic

finely chopped

½

teaspoon

Oregano

ground

8

ounce

Tomato Sauce

1 ½

cup

Water

see notes

2

medium

Potatoes

(peeled or skin intact, cut in quarters)

½

cup

Stuffed Olives

3

tablespoon

Cooking Sherry

2

tablespoon

Olive Oil

1

medium

Onion

(cut in quarters)

½

pound

Pepperoni

(sliced on a bias at ¼")

½

teaspoon

Black Pepper

(ground)

½

medium

Red Bell Pepper

(seeds removed and cut in 1" chunks)

½

medium

Green Bell Peppers

(seeds removed and cut in 1" chunks)

2

ounce

Sharp Cheddar Chees

(see notes)
Instructions
Season meat with coconut aminos, sherry, oregano and salt. Set aside.

Skillet over medium-high heat, and add olive oil. When it shimmers saute garlic and onions until translucent, about 2 minutes.

Add marinated meat, tomato paste, and 1 ½ cup of water, stir, then simmer covered for 1 ½ to 2 hours or until meat is tender. (see notes)

With 10 minutes left for cooking time add pepperoni, black pepper, and potatoes and cook potatoes until fork tender (about 30 minutes)

Add olives and green and red pepper and cook an additional 2 minutes.

Then add cheese, cover, and cook for another minute or two, until the cheese is melted.
Notes
Cut the meat while it's still partly frozen. This helps to cut meat thinly and more evenly.
Cook low and slow - the flavors will be extracted from all the ingredients rewarding you a Beef Caldereta that is rich and full of flavor.
Check and stir the Caldereta dish occasionally so it doesn't scorch. 
Add some water or broth (½ cup at a time) as needed.
Options for other cuts of meat to use are beef brisket, short ribs, chuck, rump roast or beef shanks.
Enjoy this with a side of steamed rice.
Nutrition
Serving:
8
g
|
Calories:
487
kcal
|
Carbohydrates:
16
g
|
Protein:
31
g
|
Fat:
34
g
|
Saturated Fat:
13
g
|
Polyunsaturated Fat:
3
g
|
Monounsaturated Fat:
17
g
|
Trans Fat:
1
g
|
Cholesterol:
113
mg
|
Sodium:
1174
mg
|
Potassium:
832
mg
|
Fiber:
3
g
|
Sugar:
3
g
|
Vitamin A:
506
IU
|
Vitamin C:
29
mg
|
Calcium:
101
mg
|
Iron:
4
mg
What Goes With Beef Caldereta with Cheese
These are my favorite dishes to have with Caldereta. Hope you try them!
Food safety
A few health and safety tips.
Cook the beef to a minimum internal temperature of 145 °F (63 °C)
Do not use the same utensils on cooked food, that previously touched raw meat
Wash hands after touching raw meat
Don't leave food sitting out at room temperature for extended periods
Never leave cooking food unattended
Use oils with high smoking point to avoid harmful compounds
Always have good ventilation when using a gas stove