This easy Chicken Afritada recipe uses all fresh ingredients like tomatoes, carrots, potatoes, bell peppers, and peas and only takes 35 minutes to make! It's a one-pot meal so how's that for easy cleaning too! It's a perfect and quick weeknight meal.
Jump to:
What is Chicken Afritada
The word "afritada" is a Spanish word that means to fry. While it has a Spanish root word, Chicken Afritada is a popular Filipino chicken dish. Typically, this recipe would call for frying or searing the chicken as the first step in making this dish. However, in my attempt to make this recipe healthier, I made some variations as you will see in the recipe notes.
Ingredients
Olive Oil
Garlic
Onion
Tomatoes
Chicken Breast
Fish Sauce
Chicken Broth
Dried Bayleaf
Peppercorns
Petite Gold and Red Potatoes
Carrot
Red and Green Bell Pepper
Peas
*Please see the recipe card for exact quantities.
How to Cook the Best Afritada
STEP 1: Sauté garlic and onions with olive oil, until lightly golden in color in hot skillet over medium heat.
STEP 2: Add and sauté tomatoes for a minute or two.
STEP 3: Browning the meat is optional. Add chicken and cook until opaque, about 2 to 3 minutes on each side.
STEP 4: Flavoring process. Add the fish sauce, chicken broth, bay leaf, and black peppercorns.
STEP 5: Cook the root vegetables. Add the potatoes and carrots.
STEP 6: Finishing touches. Add bell peppers and peas and cook for an additional 2 minutes. Serve while warm. Enjoy!
Substitutions
This Afritada recipe can be made using other types of meat, like pork or fish. The dish in and of itself is made flavorful by adding fresh vegetables. The sweetness you get from the tomatoes, peas, and carrots, will surely add a punch of flavor. Then we take it up a notch by adding potatoes to make this a hearty, one-pot meal. It's optional to serve this with steamed rice. I mean, what are you going to do with all that flavorful sauce?!
There are many ways in how you can make Chicken Afritada, like frying the meat before adding the rest of the afritada ingredients, using canned tomatoes instead of fresh tomatoes, or adding fresh plantains to give this dish a more tropical flavor.
Equipment Needed
This Afritada Chicken is a one-pot meal! Sauté, simmer, and can be served using the same cooking pot. This is one of the reasons why I LOVE my Le Creuset Skillet.
FAQ About Chicken Afritada
Can this dish be made in advance?
YES! Chicken Afritada tastes even better the next day because all the ingredients have had a chance to blend together.
How long does it last?
Promptly place the Chicken Afritada dish in the refrigerator in a sealed container within 1 to 2 hours of serving. Any leftover can be stored in the coldest part of the refrigerator and be consumed within 3 to 4 days. Otherwise, well-wrapped leftovers can be kept in the freezer for up to three months.
Which ingredient is dominant and how would you intensify, or mellow out this flavor?
Fish Sauce! It has a very pungent smell and taste. It's briny and savory so it adds an unexpected, yet delightful flavor to this dish. Think umami complexity! To mellow out the taste, try using 1 tablespoon to start and see how that fits your personal taste.
Can this dish be made spicy?
A side of Giardiniera or any hot sauce is a good complement for a spicier flavor.
Other Recipes You May Like
🤩 Have you tried this recipe? Please leave a ⭐️ ⭐️ ⭐️ ⭐️ ⭐️ rating and/or a review comment below. Let's be taste buds and connect with us on Instagram, Pinterest, Facebook, and Twitter.
📖 Recipe Card
Ingredients
1

Tablespoon

Olive Oil

2

Garlic cloves

crushed

1

Medium Onion

quartered

2 to 3

Medium-sized ripe Tomatoes

quartered

2

pounds

Chicken Breast

boneless and cut into bite-sized

2

Tablespoon

Fish Sauce

1

cup

Chicken Broth

1

Dried Bayleaf

½

teaspoon

Peppercorns

10

Petite Gold and Red Potatoes

sliced in half or left whole

1

Carrot

peeled and cut ½" diagonally

½

each of Red and Green Bell Pepper

cut into strips

½

cup

of Peas

fresh or frozen
Instructions
In a skillet, over medium-high heat, add olive oil. When heated through, add and sauté garlic until lightly golden in color.  

Add onions and sauté until soft and translucent for about 2 minutes.

Add tomatoes and sauté for a minute.

Add the chicken and cook until opaque, about 2 to 3 minutes on each side. Optional to browning the meat slightly. 

Add the fish sauce and chicken broth, while scraping the bottom of the pan lightly. The caramelization from the meat and veggies add to the flavor as well. Add bay leaf and black peppercorns. Cover, lower the heat to simmer and cook for 20 minutes.

Add the potatoes and carrots and cook for 5 more minutes, while keeping the dish covered in the skillet.

Uncover and then add bell peppers and peas and cook for an additional 2 minutes. Serve while warm. Enjoy!
Notes
Meat

- Chicken thighs (with bone or boneless) would work great for this recipe. Feeling adventurous, use a whole chicken cut-up so everyone can have their pick of either dark or white meat. Other than chicken, this Chicken Afritada recipe is also great to cook using pork, beef, or seafood. Do keep note that if you want something to cook in under 30 minutes, use a cut of meat that doesn't need tenderizing.

Tomatoes

- I always make this dish using vine-ripened tomatoes either from the garden or store-bought. The flavor truly is magical when using nothing but fresh ingredients. So with that said, pick fresh ingredients like

potatoes

,

carrots

,

bell peppers

, and

peas

. Disclaimer: I used frozen organic peas in this recipe to keep my cooking time at 30 minutes. 

Petite Gold or Red Potatoes

- I love using this especially when I'm in a hurry because you don't need to peel, or dice and although the bag says that it's pre-washed, I still like to give the potatoes a quick rinse. If you prefer you can use other types of potatoes. My favorite is the Yukon Gold. Did you know that potatoes with darker-colored skin (like Yukon Gold potatoes) are healthier and better for you? Well, now you do!

Fish Sauce

- Did you know it's Gluten-Free? Be sure to read the label to make sure there's no wheat in it. (See KEY Ingredients Note above.)
Any chicken broth will work for this dish, however, I prefer my own homemade chicken stock.
Nutrition
Calories:
204
kcal
|
Carbohydrates:
2
g
|
Protein:
33
g
|
Fat:
6
g
|
Saturated Fat:
1
g
|
Polyunsaturated Fat:
1
g
|
Monounsaturated Fat:
3
g
|
Trans Fat:
1
g
|
Cholesterol:
97
mg
|
Sodium:
797
mg
|
Potassium:
649
mg
|
Fiber:
1
g
|
Sugar:
1
g
|
Vitamin A:
1747
IU
|
Vitamin C:
5
mg
|
Calcium:
19
mg
|
Iron:
1
mg
Did you make this recipe?
Please give a star rating below and tag us on Instagram! We'd LOVE to see your photo @JOZmahal / #JOZmahal
*This recipe has been modified, to make it more user-friendly.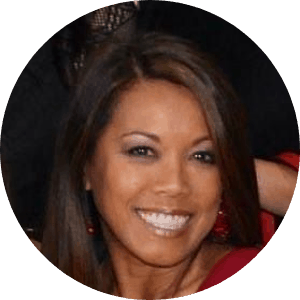 Hello and welcome, friend! I'm Jocelyn, the recipe developer, food photographer + stylist here at JOZmahal. As a Food & Nutrition major, I keep healthy and nutritious ingredients at the core of my recipe creations. I love to cook delicious and healthy meals for my family and friends. And I am so grateful that you are here as I hope to inspire and empower you to make all these delicious and healthy foods at home for your family and friends as well. Every recipe you will find here is quick and simple to make using fresh and natural ingredients that you can easily find at your local grocery store if not online. Read more about me here...
PS: If you try any of my recipes please use the tag #JOZmahalrecipes and you may be featured in my upcoming posts! ~ cook with love, my friend!