This Chicken Wings Adobo recipe only takes 20 minutes to cook in an Instant Pot. And is the most flavorful recipe, EVER! And the beauty with using an Instant Pot to cook this Filipino chicken adobo, is there's no greasy, splattery mess in the kitchen. Winning!
Jump to:
What is Filipino Adobo
Unlike the Latin version of adobo which is typically made with a combination of spices like oregano, paprika, cumin, onion, and garlic powder, the Filipino Chicken Adobo uses vinegar and garlic...and LOTS of it!
The word "adobo" in Tagalog is derived from how the meat was prepared. In the early days, when refrigeration was scarce, meat was preserved using vinegar and garlic. Hence, you can use the ingredients in this recipe for other types of protein like beef, pork, or seafood. Chicken and Pork Adobo are the most popular. More on that to come!
What Does Chicken Adobo Taste Like
Filipino adobo is a wonderful blend of flavors ranging from sweet, savory, to tangy all rewarding you with an umami goodness! I chose to cook chicken wings because who does not like snacking on chicken wings?! Plus I love that I can throw all the ingredients in a pot and let it simmer and when I cook adobo in an Instant Pot, I can have the most awesome savory adobo chicken wings in under 30 minutes.
Ingredients Needed To Make Filipino Adobo
Chicken Wings: I chose chicken wings for this recipe for a quicker cooking time. Chicken thighs would be a great alternative although cooking time will vary.
Coconut Aminos: or Tamari for a gluten-free option. However, if you do not have any gluten sensitivity you can use regular or low-sodium soy sauce.
Vinegar: my favorite brand that I use is called Datu Puti Cane Vinegar.
Fish Sauce: my favorite is Red Boat because it's not only gluten-free, it's also all organic and does not contain any preservatives.
Garlic: fresh is always better. I used 4 garlic cloves. You can use more if you like!
Black Peppercorns: whole or partly crushed.
Dry Bay Leaves: it adds another layer of flavor to the dish.
Jalapeños: this ingredient is optional. If you do not like spicy, you can omit this altogether. I just add it as a garnish for a little bit of heat to the finished chicken adobo dish.
*See the recipe card below this post for ingredient quantities and full written instructions on how to make Chicken Adobo in an Instant Pot.
Key Ingredients Notes
The Coconut Aminos, Cane Vinegar, and Fish Sauce used for this Chicken Adobo recipe can be found in the Asian aisle of your local grocery store.
Store the Coconut Aminos and Fish Sauce in the refrigerator once it has been opened.
Fish Sauce - I use a brand called Red boat - it is 100 percent pure, first press, "extra virgin" Vietnamese fish sauce. It is made from only two ingredients, the freshest black anchovy, and sea salt. While this specific brand is naturally Gluten-Free, other brands may contain wheat and MSG; so be sure to read the labels.
How To Cook Adobo Chicken Wings in an Instant Pot
Put all the ingredients in the Instant Pot
Pressure Cook for 10 minutes in Instant Pot
*See the recipe card below this post for ingredient quantities and full written instructions on how to make Chicken Adobo in an Instant Pot.
Frequently Asked Questions
Can this dish be made in advance?
Absolutely! Chicken Adobo tastes even better the next day! Promptly store the chicken wings in the refrigerator and reheat the next day.
How is it stored and for how long?
Promptly place the Adobo chicken wings in the refrigerator in a sealed container within 1 to 2 hours of serving. Well-wrapped adobo chicken wings leftover can be kept in the freezer for up to three months.
Can I marinate them?
YES! Put all the ingredients in a bowl, cover, and let marinate for at least 30 minutes or up to overnight for a more flavorful adobo chicken wings. Keep at room temperature for at least 30 minutes, prior to cooking.
Can I cook the wings on the stove?
Yes. Adobo Chicken Wings can be cooked on the stove top and will take about 30 to 40 minutes to cook. Note that the internal temp must read 165 degrees to check for doneness.
Should chicken adobo be made with white vinegar or rice vinegar?
My favorite is using white vinegar, as it yields close to authentic chicken adobo taste. However, you can substitute and use rice vinegar which will yield a milder chicken adobo flavor.
Other Chicken Recipes You May Like
🤩 Have you tried this recipe? Please leave a ⭐️ ⭐️ ⭐️ ⭐️ ⭐️ rating and/or a review comment below. Let's be taste buds and connect with us on Instagram, Pinterest, Facebook, and Twitter.
📖 Recipe Card
Ingredients
12

Chicken Wings

¼

cup

Coconut Aminos

¼

cup

Cane Vinegar

¼

cup

Fish Sauce

4

Crushed Garlic Cloves

1

T

Crushed Black Peppercorns

2

Dried Bay Leaves

Jalapeños

optional
Instructions
Rinse and dry chicken wings with a paper towel.

Put all ingredients in Instant Pot. *Set Instant Pot at "Pressure Cook" for 10 minutes with a "Pressure Level" at low.

Once cooking has been completed, allow the Instant Pot to release steam and "depressurize" on its own. To help speed the cooling-off process, place a wet towel on the metal part of the lid being sure not to cover the steam release. Also, be sure that "Keep Warm" is turned OFF to allow for it to cool faster.

After the float valve drops down indicating that the Instant Pot is safe to be opened, remove the chicken wings then place them in a bowl, and set them aside. Top with sliced jalapeños, if desired. 

Set the Instant Pot to "Sauté" the sauce in the Instant Pot for an additional 10 minutes. This process helps thicken the sauce giving it a more robust flavor. Pour the sauce over the chicken wings.

Serve Adobo Chicken Wings with steamed rice, chopped romaine lettuce and sliced tomatoes. Drizzle some of the sauce over the lettuce and tomatoes.
Notes
If you're not concerned about gluten, you can substitute Soy sauce or Tamari sauce for Coconut Aminos.
Sliced tomatoes help balance out the acidity of the dish.
Serve this dish with steamed rice, because it will be a tragedy if you don't savor the adobo sauce! OK, it's a bit of an exaggeration, but I think you'll agree once you taste this dish.
Sautéed Opo Squash! It's a great complement to this dish!
Nutrition
Serving:
3
wings
|
Calories:
93
kcal
|
Carbohydrates:
16
g
|
Protein:
7
g
|
Sodium:
493
mg
|
Fiber:
1
g
|
Sugar:
1
g
Did you make this recipe?
Please give a star rating below and tag us on Instagram! We'd LOVE to see your photo @JOZmahal / #JOZmahal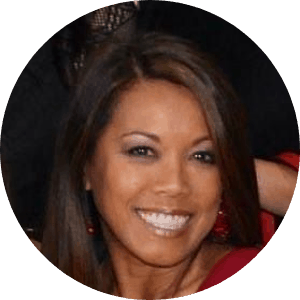 Hello and welcome, friend! I'm Jocelyn, the recipe developer, food photographer + stylist here at JOZmahal. As a Food & Nutrition major, I keep healthy and nutritious ingredients at the core of my recipe creations. I love to cook delicious and healthy meals for my family and friends. And I am so grateful that you are here as I hope to inspire and empower you to make all these delicious and healthy foods at home for your family and friends as well. Every recipe you will find here is quick and simple to make using fresh and natural ingredients that you can easily find at your local grocery store if not online. Read more about me here...
PS: If you try any of my recipes please use the tag #JOZmahalrecipes and you may be featured in my upcoming posts! ~ cook with love, my friend!