We've all been there - you cook a delicious batch of fried rice for dinner but end up with some leftovers. Don't fret! Instead of letting that tasty goodness go to waste, we've got some fantastic ideas on how to repurpose and reinvent your leftover fried rice into mouthwatering meals that will have you licking your plate clean. Get ready to take your culinary creativity up a notch as we give you a few creative ideas for what to make with leftover fried rice.
Love Fried rice? Be sure to check out a popular Filipino dish called Sinangag, which is very flavorful yet simple to make Garlic Fried Rice. And if you want to learn how to preserve garlic in oil, be sure to read about that here in my blog.
Jump to:
Understanding Fried Rice
Fried rice is a beloved staple in many Asian cuisines. It is traditionally made by stir-frying cold, day-old rice in a hot pan with a bit of oil. The ingredients can vary widely, from green onions, bell peppers, and bok choy, to more exotic additions like Thai fish sauce. Though the specific ingredients and recipes can differ, the potential uses for leftover fried rice remain universal.
Storing and Reheating
Before reinventing leftover rice, it's essential to store it correctly. Transfer the fried rice into an airtight container, allowing it to reach room temperature before sealing it. This method retains the freshness for a longer time. Always give a quick sniff test or visually inspect for mold before using – these are clear signs that it's time to bid the rice goodbye.
When it's time to reheat, avoid the microwave if possible, as it can render your fried rice a tad too mushy. Instead, opt for the stovetop method. Heat a little olive oil, peanut oil, or sunflower oil over medium heat in a large frying pan or wok. Add the cold rice and stir frequently, ensuring the fried rice is heated. A sprinkle of water can reintroduce moisture, and a splash of soy sauce can revive its flavor. If the rice is a tad dry, a drizzle of sesame oil will do wonders.
Fried Rice Variations and Favorite Mix-Ins
Here are a few creative ideas for what to do with leftover fried rice:
For the Love of Garlic: Check out my Filipino Garlic Fried Rice recipe. This versatile rice can be transformed into a satisfying meal with various additions. Personally, I love my fried rice topped with a fried egg or bacon. However, you can add any protein, including sausage, tofu, chicken (especially rotisserie chicken), pork, shrimp, beef, or fish. Filipino Garlic Fried Rice can be served for breakfast, lunch, dinner, or any time in between!
Loaded Veggie Delight: Take your fried rice and stir in some fresh vegetables like black beans, broccoli, cabbage, bell peppers, bean sprouts, carrots, peas, corn, green beans, onions, peas, pea pods, scallions, shallots, sugar snap peas, or any of your favorite fresh or frozen vegetables will work. If you want to save time, use frozen stir-fried vegetables or any other favorites you have on hand. Sauté them quickly in a pan until they're tender yet still crunchy. You can also add some protein options like tofu if you'd like. The result? A wholesome veggie-packed delight that'll leave you satisfied and nourished.
Spicy Thai Fusion: Give your fried rice a spicy twist by infusing it with exotic Thai flavors. Add a dollop of red curry paste or Sriracha sauce to the pan while reheating the leftovers for an extra kick. Toss in some chopped fresh basil leaves and diced pineapple chunks (trust us on this one!), and garnish with crushed peanuts for added crunchiness.
Kickin' It With Kimchi: Mix in some kimchi cabbage and kimchi juice with your leftover fried rice for a Korean flair. This is one of my favorite ways to revitalize fried rice, as it's so easy and equally satisfying!
Beefin' It Up: Check out my Steak Fried Rice and Bacon Garlic Fried Rice recipes for meat lovers!

Reheat the Steak Fried Rice in a wok on medium heat, adding a little oil if necessary. It's essential to stir constantly to avoid sticking and burning. Additionally, if you plan to add more ingredients or leftovers, ensure they are at room temperature or slightly heated before incorporating them into the rice to ensure even cooking.
Bacon Garlic Fried Rice: A great way to start your day is by having this tasty dish for breakfast. Heat up your leftover Bacon Garlic Fried Rice, and add a fried egg on top for extra protein. Green or spring onions can add a burst of fresh flavor.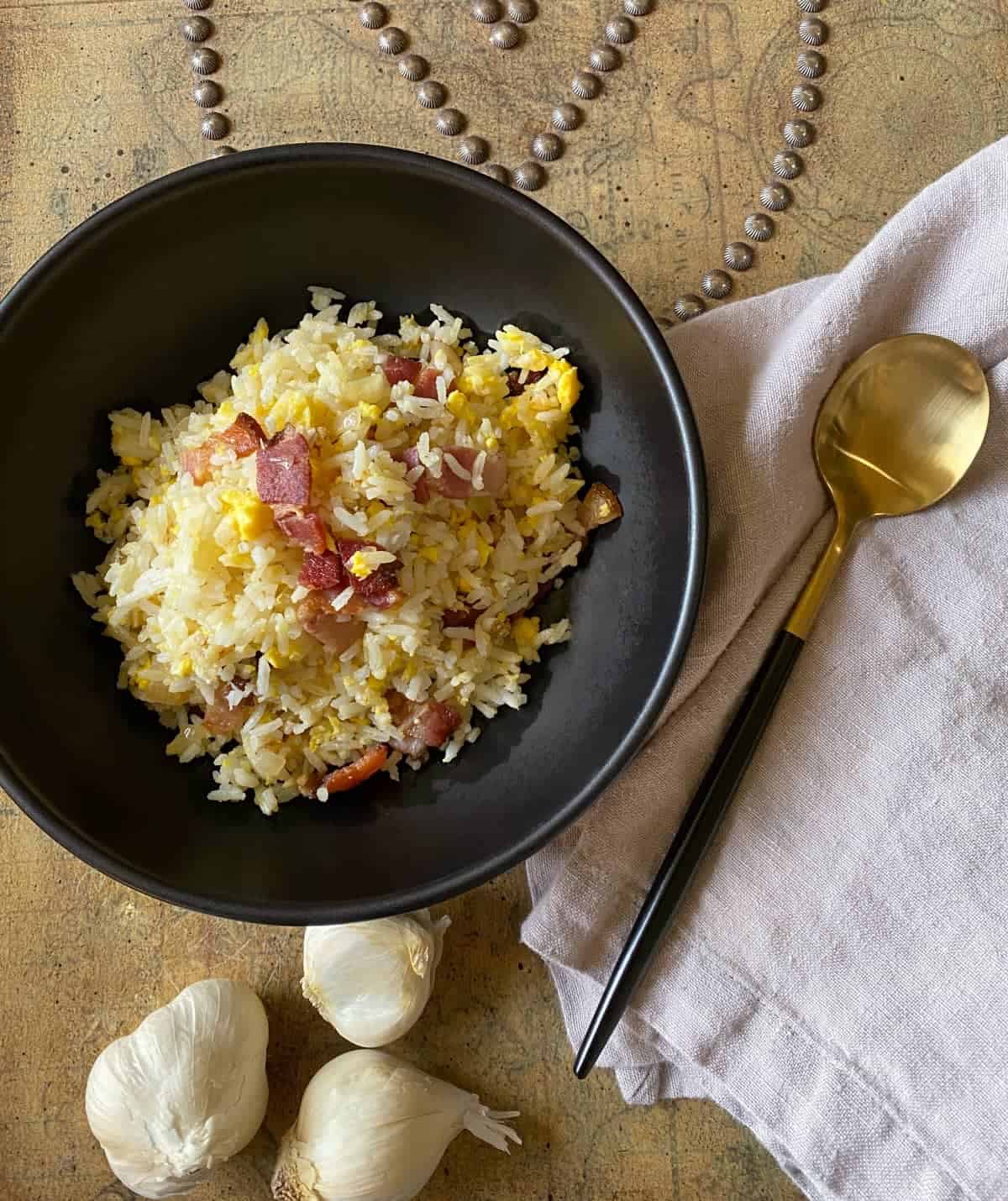 Got some leftover ground beef? Are you thinking what I'm thinking? Go for it! Throw it in your skillet or wok and stir-fry with the leftover fried rice.
Mediterranean Magic: Who says fried rice can't have a Mediterranean flair? Take those leftovers and give them Mediterranean flavors by adding ingredients such as sun-dried tomatoes, feta cheese crumbles, Kalamata olives, and chopped fresh herbs like parsley or dill. The combination will transport you straight to Greece or Italy – pure magic on your plate!
Spice It Up!: Enhance the flavor of your fried rice with herbs and spices like black pepper, cayenne, chili, chives, curry, paprika, red pepper flakes, tarragon, or turmeric. Lastly, elevate the dish with sauces such as chili sauce, coconut aminos, gochujang, hot sauce, oyster sauce, soy sauce, sriracha, or tamari sauce.
FAQ
Can I store leftover fried rice in the fridge?
Absolutely! Fried rice can be stored in an airtight container, covered with plastic wrap, and then in the refrigerator. It's best to consume leftovers within 2-3 days.
How do I reheat my leftover fried rice?
Reheating is easy! You can use a microwave by placing your desired portion in a microwave-safe dish and heating it on medium power for 1-2 minutes, stirring halfway through. You can also heat it up on the stovetop by adding a splash of water or broth to prevent drying out.
My leftover fried rice seems dry. Any suggestions?
No worries, we've got your back! To revive dry fried rice, sprinkle some water or broth over it before reheating. Alternatively, mix in a little soy sauce or add some cooked veggies or protein like chicken or shrimp to give it extra moisture and flavor.
Can I freeze my leftover fried rice?
Yes indeed! Freezing leftover fried rice is an excellent option if you want to enjoy it later. Ensure it has cooled down completely before transferring it into an airtight freezer-safe container.  
Fried Rice Recipe Round-Up
Garlic Fried Rice
This Filipino recipe for fried rice called Sinangag, could not be any simpler and more delicious! All you need to transform your day-old rice into a magnificent dish that you will crave again and again and again...is GARLIC! 
Check out this recipe
Steak Fried Rice
Easy recipe for better-than-takeout steak fried rice that takes less than 20 minutes to make and is perfect for a quick weeknight meal. Budget friendly too!
Check out this recipe
Bacon Garlic Fried Rice
An easy-to-make comfort food using leftover rice, made flavorful with bacon, eggs, and garlic! From prep to table in only 15 minutes!
Check out this recipe
Fried Rice Recipes
Looking for fried rice recipes? Try these:
What Goes With Fried Rice
These are my favorite dishes to serve with fried rice: